You know your comedy career is "BOOMING" when you do a Gas Station.
This past summer I was asked to do a show in Avon, N.C. with a good friend and funny comedian Nick Cobb.
Nick Cobb official standup comedy website
I jumped at the chance to do a real show with someone I knew would be fun to work with again.
Nick flew here to Raleigh, N.C. and I drove us the rest of the way to Avon, N.C. ( about 5 hours ). As we got closer to Avon, we started to realize how out of the way the it truly was. I say that due to the fact my iPhone service got weaker and weaker the closer we got. But not being able to use my iPhone might of been a good thing because nothing scares Southerners like technology.
We finally got our destination and checked in at our hotel. The hotel was right on the beach and was conveniently located right across the street from a gas station / mini-mart. Like every mini-mart, it had all your basic necessities. But this mini-mart went a step further! It even had a private movie theater hidden by a secret door that blended into the wall perfectly that sat 30 in stadium movie theater seats. But wait! that's not the end to the AMAZING mini-mart features. Nope! The private, secret hidden theater also doubled as a "standup comedy club"...Yes, you read that right! A STANDUP COMEDY CLUB!!!
Wow, my agent must be working overtime! TO make sure all the islanders were aware of the show going on that weekend, they were gracious enough to advertise us on a white board in the window. we didn't have our names in lights, but we were mentioned right under "Boars head Turkey $9.54 a lb". The name really added the icing to the cake! It was called "Big Wave Daves". Which ironically was what I hoped would come and wash that place away right before we had to do the show.
We were set to do two nights of shows, two shows Friday and two shows Saturday. The first show Friday night had a crowd of 3 people. Two very nice local senior citizens, and the owner. If that didn't make up for the 5 hour drive, then I don't know what would. lol Insert sarcasm here.
Actually to be honest, the show went great and I did 25 minutes for those three generous people. The second show was canceled due to the fact that there was no crowd. Avon N.C. is a fishing town that is on the outer banks of N.C. and people don't usually stay up late because they get up at the crack of dawn to fish.
The second night was a better turn out! This lady came up to Nick and I after the first show and said she loved it, but that we disappointed her. When we asked her why, she replied with this. " I told my son you were going to do a lot of "pussy jokes", but you didn't. I really hoped you would of done a lot more "pussy jokes". The more she said "pussy jokes" didn't distract me from the fact that some point of the day, the selling point to her son by her was the fact they were going to do "pussy jokes". I could just imagine how it went down. I can see the son refusing to go over and over again, but then the mom in a stroke of genius deal making yells out from down stairs...." ok, but you are going to miss out on all the "PUSSY JOKES".
After each show we went back to the hotel we were staying at at the expense of Big Wave Dave. It was a simple hotel room. If you consider simple to be an aroma of pee and sand. But to make up for the lovely aroma, they threw in a high-tech entertainment center.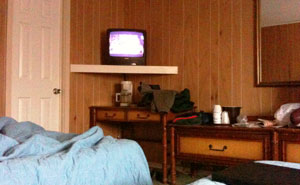 And yes, that is a 15 inch laptop (which I had with me, thank god!)with shitty speakers that were reminiscent of a two cans tied to string to play telephone when I was 5.
And if you look closely at the last picture, you can see Mr. Cobb enjoying the real reason how and why we enjoyed/tolerated the whole weekend.