Holiday gifts really show what they think of you
These days I feel Christmas is way too commercialized and loses the true sense of the Holiday. Not that there is anything I can do to change the whole thing, but at the same time I do enjoy getting gifts. That's not to say you can't get meaning full gifts for just a small amount of money. It really depends on the thought and meaning behind the gift, not how many months it will take to pay off your credit card bill.
Like most Americans I didn't have a lot of extra cash to spend on gifts, and figured out a way to kill two birds with one gift. Being the struggling comic, I decided to give a gift at the same time as shamelessly promote myself.
Promotion materials can be very expensive but I found a great way to promote my standup for just three dollars and fifty cents. This great gift came in a 2 piece set and was a great way to spread laughs and safety all at the same time.
I realize that a night light can be considered tacky and not a good way to Feng shui, but then again neither is doing a one niter in a one horse town that would rather hear a fart noise as a punchline instead of a punch you spent your whole career trying to perfect. "GET ER DONE!
Now that I think of it, I don't think anyone would forget your name if it was on such a great example of American craftsmanship ( If you consider American craftsmanship to be made by small little Asian kids for nickels a week ).

Just when I thought I had the best tacky gift, my dad blew past me like a cute girl that memorized a knock knock joke on the road. I am the youngest of two in my family and for some reason my parents still think of me as this 12 yr old kid.
I am all for being green and being earth friendly for the environment, but it kind of defeats the purpose when it comes on the scalp of a 3D animation film star. I never thought I would say this, but... I would kill for one of those mutant sheep-like chia-pets. But being the the Holidays, I will make the best of the situation. My coworkers and you blog readers don't know it yet, but I will giving you updates of the growth process of my Chia-Shrek. I know!...I know!... it's like Christmas all over for you readers.
I am sure you will be waiting on the edge of your seats to see the updates, so I decided to tease you a bit and give you the first two days worth of progress. I think the journey will be as exciting as seeing how the local prostitute at the bus stop uses makeup to cover up her war scars of honor from the night before.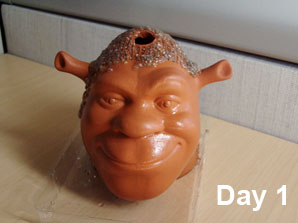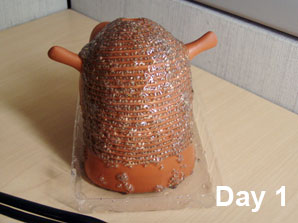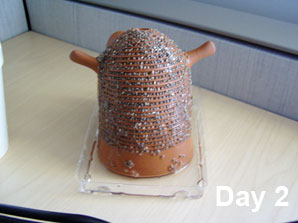 Unfortunately, thats all the updates I have for now. You will just have to wait for more. If you need that adrenalin rush, you might have to resort to watching paint dry till the updates.